About Washburn Rural Middle School
Washburn Rural Middle School houses all of Auburn-Washburn's seventh and eighth graders, organizing each grade level into teams to preserve the feeling of a smaller school.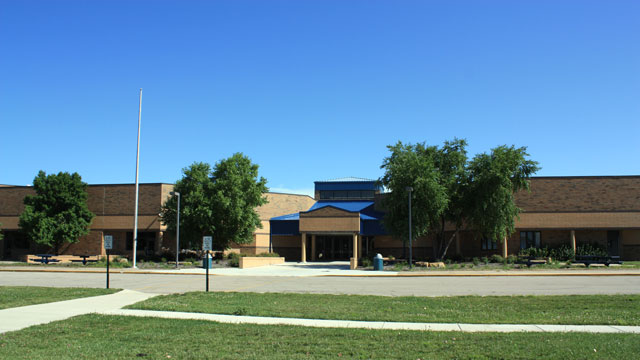 Our Mission
The mission of Washburn Rural Middle School is to build bridges for lifelong learning.
Our Vision
Working to keep students safe:
Build and nurture a positive school climate
Ensure physical and emotional safety
Maintain a stable and dependable learning environment
Employ a safe school plan, incorporating the best available practices
Recognizing both individual and group efforts:
Respect the individual learning styles of all students
Expect all students to think and produce independently
Expect students to work cooperatively in an increasingly interdependent world
Practice collaboration among all members of the learning community to ensure student success
Making a difference in our community:
Prepare responsible and productive citizens
Teach respect for all people
Teach students to work together in a diverse society
Encourage activities that support our community and a global society
Reward positive leadership roles in our community
Strive for excellence:
Identify and ensure mastery of essential skills
Empower students to challenge themselves at the highest level
Focus on continuous improvement
Engage in continuous self-assessment and results-based decision-making to ensure student success
History
Washburn Rural Middle School started off as Jay Shideler Junior High in 1964. The Junior High moved into the old Washburn Rural High School, located off Wanamaker Road, and was named after the principal Jay Shideler. In 1987, the name was changed from Jay Shideler Junior High to Jay Shideler Middle School when the ninth grade moved into the high school.
As enrollment outgrew the school, a new middle school was built in its current location off of 61st Street. When the school moved, the name was changed again to Washburn Rural Middle School, and the old building on Wanamaker became Jay Shideler Elementary School.
In 2007, a bond was passed which approved the building of a new elementary school and the renovation of existing schools. In 2009, the middle school began construction of a new gymnasium, locker rooms, a full cooking kitchen, auditorium, and the remodeling of the old cafetorium into a music room, and the old serving kitchen into four new classrooms.
Today, Washburn Rural Middle School houses 7th and 8th grade students that come from the seven elementary schools. The students are divided into four teams per grade level in order to help keep the feel of a small school.