About Jay Shideler Elementary
Previously Washburn Rural High School, Jay Shideler Junior High, and Jay Shideler Middle School, Jay Shideler Elementary serves today's kindergarten through sixth grades in Auburn-Washburn's central attendance area.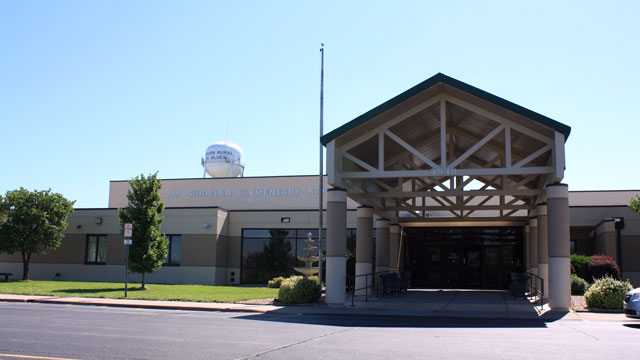 Our Mission
Jay Shideler Elementary will educate students in a safe and caring community to reach their full potential while showing dignity for all.
History
Jay Shideler was not always an elementary school. In fact, when the school was first built in 1952, it was Washburn Rural High School. Over the years, enrollment numbers grew. Finally, in 1964, The Washburn School District consolidated with the Auburn School District to become Auburn-Washburn USD 437. As the Auburn High School students began to attend Washburn Rural High School, there was not enough space on Wanamaker Road. So a new school was built on 61st Street, and the old building became Jay Shideler Junior High. The school was named for the principal, Jay Shideler. They changed the name to Jay Shideler Middle School in 1987, when the ninth grade moved into the high school. In 1991, Jay Shideler Middle School ceased to exist, and became Jay Shideler Elementary School.
The Jay Shideler building took off running in its first year as an elementary school. The building housed half-day preschool, half-day kindergarten, and first through sixth grades. Al Camblin was the first principal, and remained at the school until 1999. From the beginning, Jay Shideler Elementary put effort into its programs. By 1995, the school had several programs, including a Fine Arts Festival, Foster Grandparents, and the USD 437 Early Childhood Special Education Program.
In 1999, the School Board approved the installation of a fountain at the entrance of Jay Shideler. The fountain was a gift from the Jay Shideler Student Council for their principal Al Camblin, who was retiring at the end of the school year. The fountain still stands near the entrance of the school today.
Increasing enrollment inspired a bond issue in 2007, which was passed, approving the building of a new elementary school and the renovation of existing schools. As the new elementary school was being built, the district boundaries were redrawn and many Jay Shideler students started attending Farley Elementary School in the 2009-2010 school year.
Today, Jay Shideler Elementary is a vibrant K-6 school. With more programs than ever available to the students, Jay Shideler is an important part of the Auburn-Washburn School District.