Washburn Rural High School will mark its 100th year in 2018. A number of activities and events will take place throughout the year to honor the milestone. The year-long celebration kicked off with homecoming on September 15. Other centennial-themed activities are planned throughout the year. These include:
Essay Contest
Book Donation
Golf Tournament (March or April)
Post Prom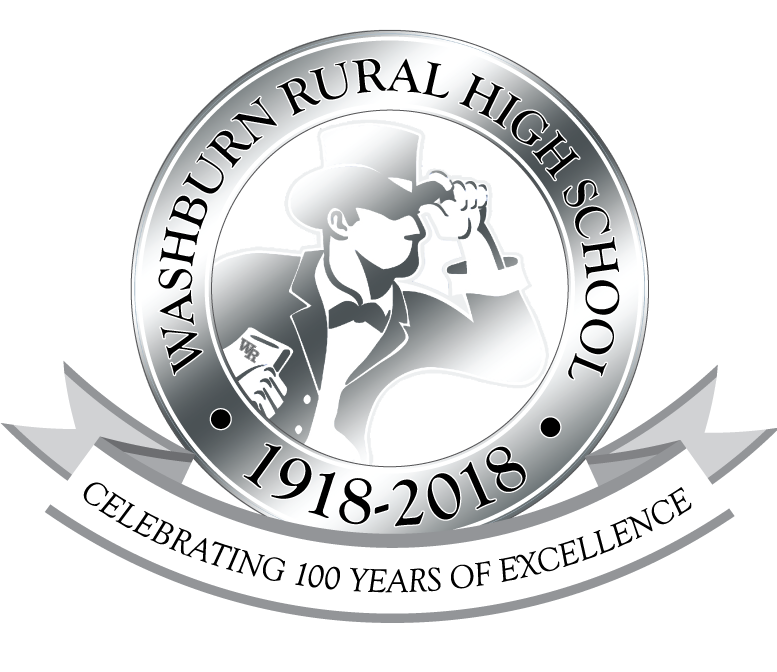 A special centennial fundraising initiative is underway to provide college and tech school scholarships to WRHS graduates as well as purchasing iPads for younger district students who participate in the Boys & Girls Club at Montara.
The student-run business, The Shack, is selling centennial-themed WRHS apparel.
A video is being produced to commemorate the 100th anniversary of the school, and a centennial logo has been created for the 100th anniversary.
History
The school began in 1918 when the Washburn University preparatory academy and its neighbors south and west came together to form Washburn High School. Classes were held in the basement of the university's MacVicar Chapel from 1918 to 1939. Students enjoyed the privileges of using the college library, gymnasium, and science laboratories. Since the high school was located on the college campus, the same colors of blue and white, and the college mascot, Ichabod Washburn, were adopted by the high school. Students from Washburn High School became known as the Junior Ichabods.
By 1939, the crowded conditions on the campus forced Washburn High School to build its very own building located at the intersection of 19th and Hope streets. In 1946, the school became officially known as Washburn Rural High School. For many years, the high school enjoyed its own building which began in a rural setting. However, by 1953, the city had expanded, surrounding the school and forcing it to a new location on SW Wanamaker Road.
Within about 10 years, the school outgrew this location and in the fall of 1964 a new school was opened at SW 61st Street and Wanamaker Road. The old building was transformed into Jay Shideler Junior High School and then Jay Shideler Elementary School.
Over 100 students were enrolled at the new WRHS in 1964, many of them third generation Junior Ichabods. This was the fifth building that had housed the high school since 1918. Since opening, the current school has undergone ten expansions and renovations. It is currently one of the largest high schools in Kansas with a grade 9-12 enrollment over 1,900. It is also one of the highest performing schools in Kansas.