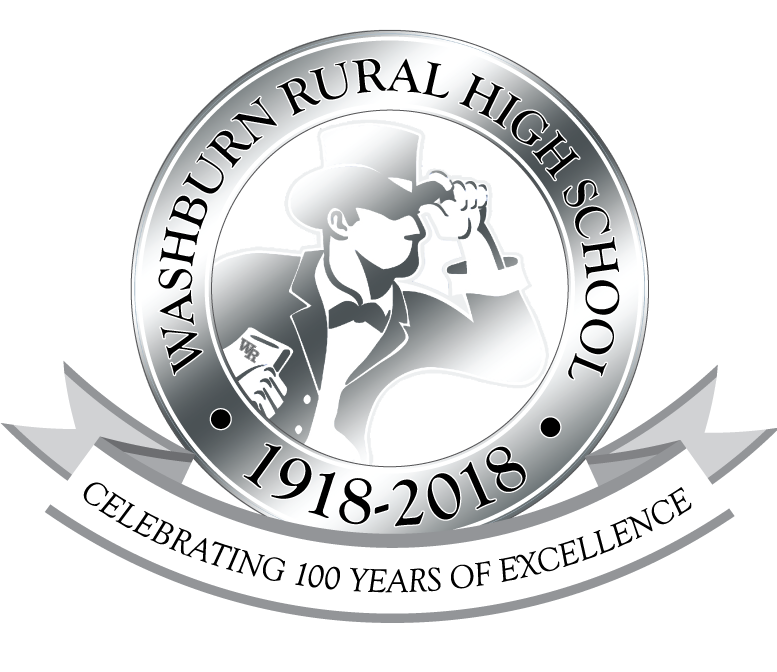 Alumni Reunion Dinner
Come celebrate 100 years of Washburn Rural May 5, 2018 at 5:00 PM in the Washburn Rural High School Cafeteria. Attendance is FREE! Meal costs $11. RSVP with name, class year, number of people, and if you are eating to (785) 286-3401 or WashburnRuralHSAlumni@gmail.com by April 25.
View this flier for additional information.
Who are we?
Established in the early 1940s, the Washburn Rural Alumni Association has a long-standing tradition of servicing alumni and supporting Washburn Rural High School. At present, the Association is comprised of nearly 1,000 members from graduating classes as early as 1922. Each year, the Association names Hall of Fame members, and the Alumni Scholarship funds deserving seniors.
The Washburn Rural Alumni Association welcomes you, and sincerely hopes you will consider joining. Thank you for helping us keep the directory up-to-date.
Accomplishments
Alumni Association accomplishments include:
Establishing a Hall of Fame for distinguished alumni and faculty in cooperation with a leadership group of WRHS students.
Supporting current high school organizations and students throughout the district.
Maintaining and updating alumni records.
Becoming a central contact for reunion organizers.
Annual Dinner
Join your fellow alumni at the annual reunion dinner, which takes place first Saturday in May at the Washburn Rural High School cafeteria. All graduates are invited.
Ongoing and Future Objectives
The Alumni Association has a number of ongoing and future objectives, including:
Promoting an interest in Washburn Rural High School.
Reconnecting graduates by bringing together past and present alumni.
Raising funds to uphold the Alumni Association objectives.
Recognizing a graduating senior with an alumni scholarship.
Preserving historical artifacts of interest to Washburn Rural High School.
Board of Directors
Alumni Association Officers
| Position | Name |
| --- | --- |
| President | Ginger Hales Powell |
| Vice President | Michele Curtis McCaffrey |
| Secretary | Lyla Ralston Acardi |
| Treasurer | Judy Howbert Forster |
Alumni Board Members
Julie Palma Ireland
Sharon Phillips Lillo
Nola Harrison
Stay Connected
Use these resources to stay connected with other Washburn Rural High School alumni:
Questions?
Contact the Washburn Rural Alumni Association at WashburnRuralHSAlumni@gmail.com.