Summer Walk-In COVID-19 Vaccination Clinics
Posted 5/18/21, 1:00 PM
Updated 5/28/21, 9:48 AM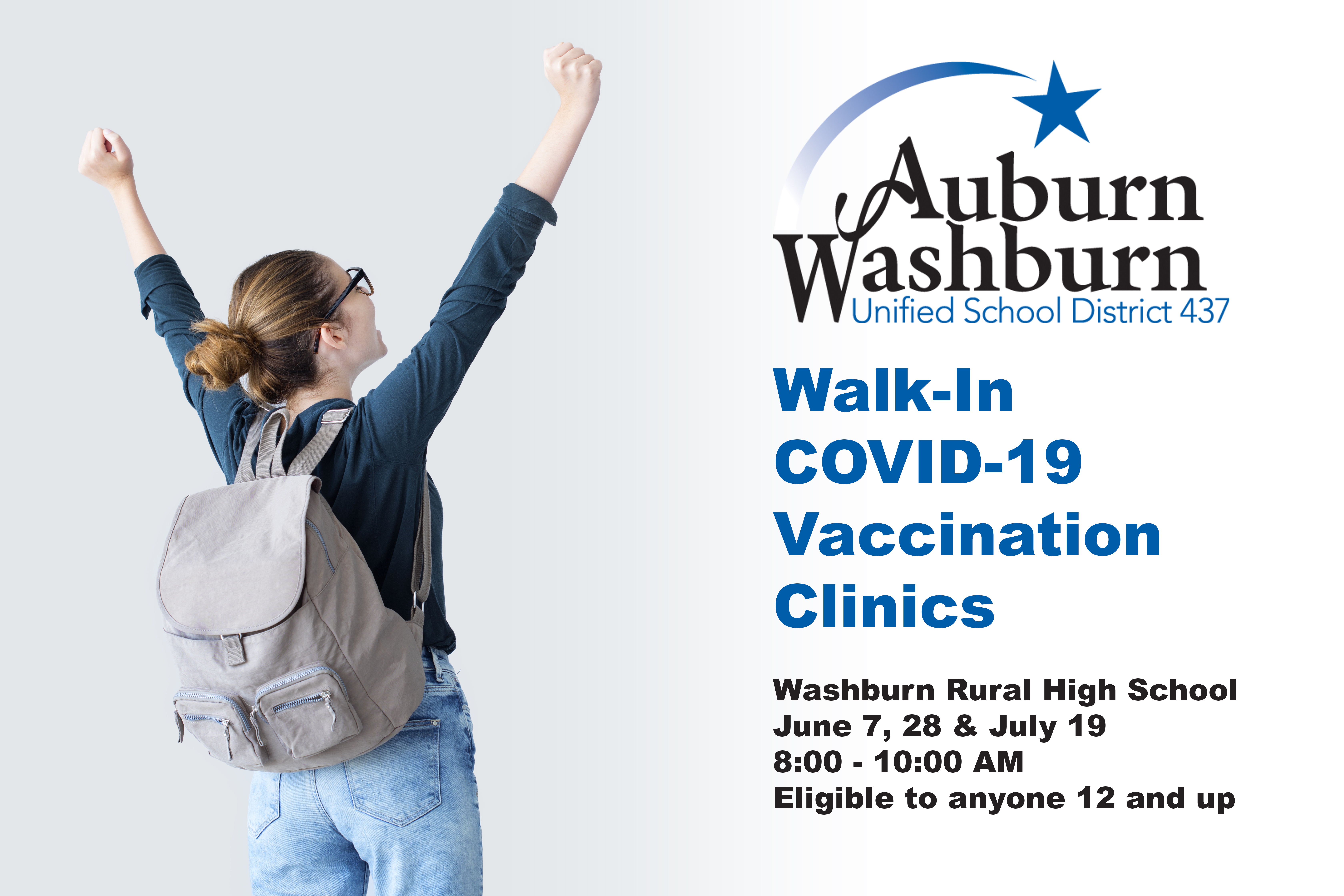 Auburn-Washburn is partnering with the Shawnee County Health Department to host Walk-In COVID-19 Vaccination Clinics this summer. Anyone 12 years or older is eligible to receive the vaccine at the clinics. Parental consent is required for individuals aged 12-17. The clinics will be administering the Pfizer vaccine which requires two doses to be fully vaccinated.
The clinics will be held at Washburn Rural High School located at 5900 SW 61st St.
June 7 - 1st Dose
June 28 - 1st or 2nd Dose
July 19 - 2nd Dose
Links to important information are included below:
Other Walk-In School Vaccine Clinics
All times 8:00-10:00 AM.
Host
1st Dose
1st/2nd Dose
2nd Dose
USD 437: Washburn Rural High School
June 7
June 28
July 19
USD 345: Seaman High School
June 8
June 29
July 20
USD 450: Shawnee Heights Middle School
June 9
June 30
July 21
USD 372/321: Silver Lake High School
June 10
July 1
July 22
Topeka Shawnee County Public Library - Marvin Auditorium
June 11
July 2
July 23
USD 501: Topeka Public Schools
Collaborating with KDHE
Choose your location and get vaccinated!
Please contact sncovaccine@snco.us with questions. No appointment necessary. Open to all community members. For more information on vaccine safety and information, please visit http://www.snco.us/hd/COVID19_Vaccination.asp.