Free COVID-19 Vaccines at Washburn Rural High School
Posted 4/28/21, 12:20 PM
Updated 4/28/21, 1:51 PM
Auburn-Washburn and the Kansas Department of Health & Environment are partnering to offer COVID-19 vaccinations to all students 16 and older before the end of the school year.
The clinic is coming to Washburn Rural High School to vaccinate students, staff, and family members who still want the vaccine. Sign-up and parental consent are required.
See below for more information: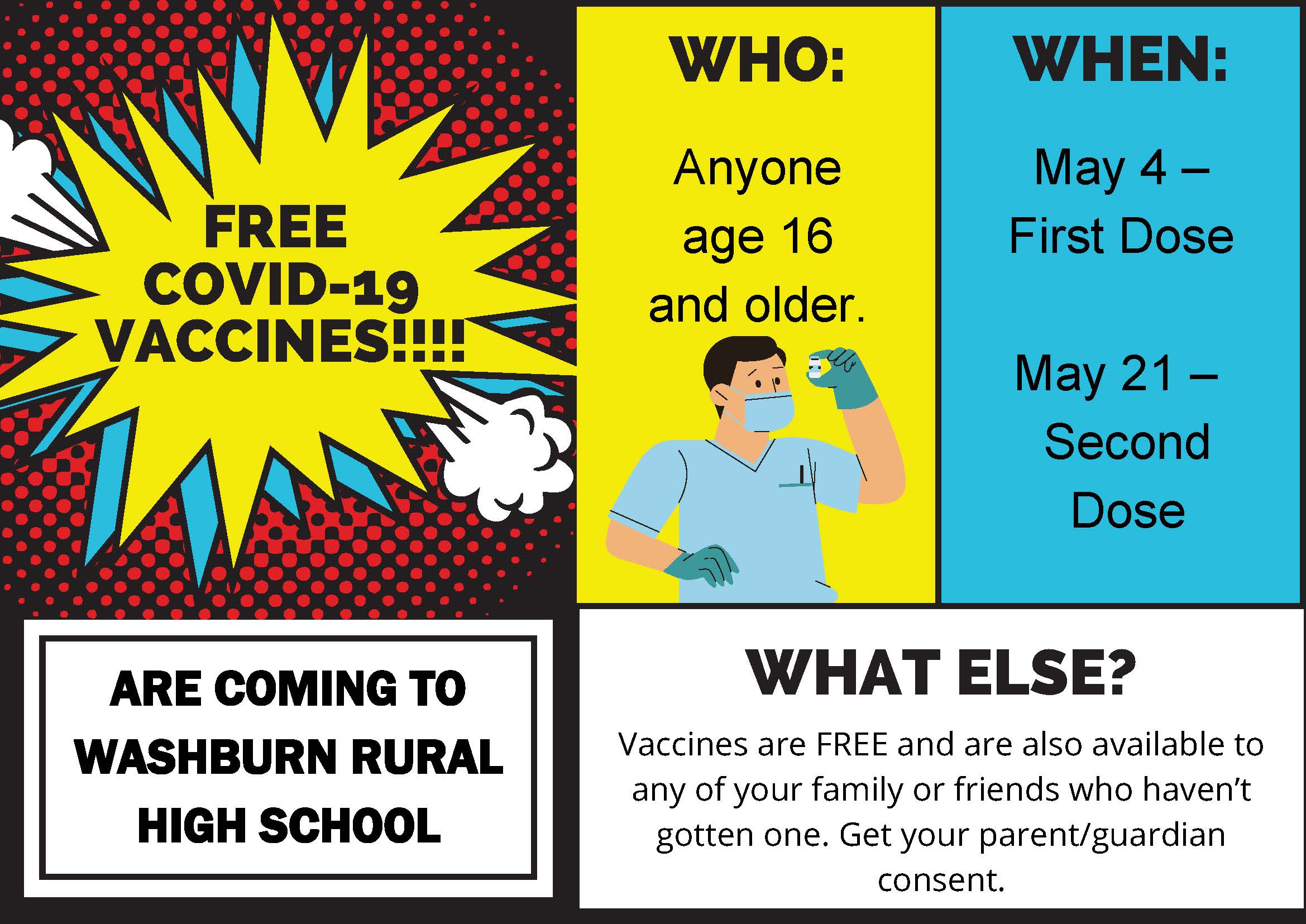 The COVID-19 vaccination being offered at Washburn Rural High School is available free of charge to all students 16 or older as well as Auburn-Washburn family members and staff who still wish to receive the vaccination.
The clinics will have appointments available for each dose from 8:30 AM to 2:30 PM. Prior to the clinic dates, you MUST make an appointment and complete and print a consent form for each individual receiving the vaccination.
The clinic is administering the Pfizer COVID-19 vaccine. To be fully vaccinated against COVID-19, you must receive both the first and second doses. The first dose is May 4 and the second dose is May 21. The vaccinations will take place in the Activity Center at Washburn Rural High School located at 5900 SW 61st St. Students will be released from class to receive the vaccine. Family members and other staff should enter through the northeast doors outside the Activity Center.
Appointment Registration Instructions
When registering for appointments, please look for the May 4, 2021 clinic titled Washburn Rural COVID-19 Clinic. Registrants will be asked to select first dose, the clinic date and name, fill in biographical information and health information, and then select their specific vaccination time before consenting on the form. The system will send an email with confirmation information to the email provided in the biographical information section of the form. Students must still bring the paper consent forms with their parent/guardian's signature.
WRHS Clinic Quick Facts
Who is Eligible: Any Auburn-Washburn student, staff, or family member age 16 or older
Location: WRHS Activity Center
Date: First dose May 4. Second dose May 21.
Appointment Times Available: 8:30 AM-2:30 PM
Vaccine Offered: Pfizer (two doses required)
Needed at First Dose Appointment: Completed consent form for each individual